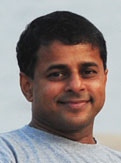 Mohan Krishnan
Mohan Krishnan is the founder of Byzan Systems, a software entrepreneur, with over 25 years of global experience in Information technology business. He was a co-founder of MphasiS, a 30000 people $1 Billion+ in revenues, global IT services and BPO company which was acquired by EDS/HP in 2008. Till October 2008, Mohan was the President and the global head of MphasiS's US$ 475 Million Software Applications Business which employed 12,000 people. In addition, he was also an EDS Vice President and led the CIO & CTO offices and Architecture community of MphasiS.
Mohan has rich and varied experience in the technology solutions for the Financial services industry and has led several business-technology consulting assignments for Fortune 100 clients in the areas of Architecture Frameworks, Portals and Multi-channel delivery, Service Oriented Architecture, Enterprise technology integration and Legacy modernization. His current interests include innovations in Mobility and Mobile Payments and has co-founded a new Mobile Payments venture.
Mohan holds a Masters Degree in Science and an MBA from Indian Institute of Management, Ahmedabad.