Corporate eBanking Support
Byzan's Corporate e-Banking Support (EB Support) has been servicing banks for more than 15 years and is a known leader in this domain. It caters to the various technical and coordination requirements needed in implementing and extending e-access of a Bank's corporate Clients. We are a one-stop-shop providing technical support and implementation solutions desk customized for your e-Banking offerings.
The support services can either be delivered from a Bank's own premises or from Byzan's offices. The service desks are offered in all metros with one of the desks acting as the country coordinating center with a dedicated Country Manager.
With more than 100+ trained techno functional banking professionals in domains such as Payments, Cash Management, Trade, Treasury, etc, and a track record of 99% service availability/SLA adherence, Byzan today supports most of the established & reputed banking institutions in their eBanking implementations.
The Outcome:
Sustained cost benefits through a proven solution model
Reduced call drops & quick turnarounds due to Client focus
MIS that facilitates detection of frequent problem areas
Continuous improvement programs ensuring quality
Knowledgebase of frequently occurring problems and solutions
Increase in Bank's Client base, in turn, providing increased revenue to the bank
Goodwill and reputation of the Bank's e-Banking products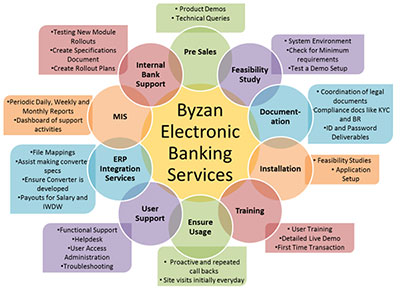 EB Support Service Offerings
Pre Sales & Product Implementation
As an extended sales arm of a Bank, Byzan helps play a techno functional role & assists the product sales team of the Bank. Byzan helps answer technical queries posed by a client in the pre sales phase. In the implementation stage, Byzan staff plays a key role in coordinating with the Bank's Implementation Team and the Bank's Client for ensuring correct Access, Activation and the First Time Setup. Byzan also plays a key role in helping a Client to use the application, ensuring proper handholding for a smooth and trouble free First Transaction.
Post Implementation Training
Product training for end client on Banking products and creating user and technical documentation
Support Desk
Handling Client queries, tracking & resolving complaints, maintenance, troubleshooting, coordinating IT meetings, MIS, and reinstallations within predetermined TAT by Byzan staff on behalf of the Bank through channels like phone, email, remote connections, web meetings or even site visits. Byzan also does Transition, Migration Testing & Implementation Testing for client's Accounting/ERP systems to new systems.
Bank Support
Data & Converter Development/Integration Services between the Bank & Client's IT systems with focus on payments integration, continued support services to enhance and maintain the interfaces, custom file mapping interfaces, etc